Join PSR's #DemandAccess Campaign!
February 17, 2022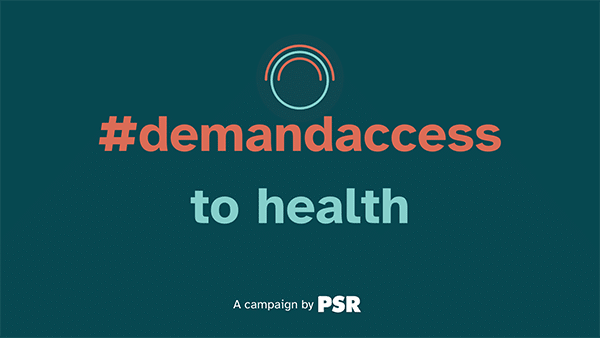 PSR has launched a #DemandAccess campaign that seeks equitable access to health and justice for all people by demanding access everywhere it is currently being denied. This campaign centers on the principle that for as long as we fund violence to 'keep the peace', our access — to healthy minds, bodies and environments — is denied to our communities.
As part of the #DemandAccess Campaign, PSR is reaching out to young health professionals aged 18-35 — including medical students — interested in working at the intersection of nuclear weapons and social justice issues from a health perspective, to take our #DemandAccess Survey. This survey is especially for those interested in joining a steering committee to lead our efforts in advancing this campaign and help make a positive impact in this world.
Please share the survey (linked here) widely with any young health professionals you know — and if you are a young health professional, take the survey and share with your friends and colleagues! The deadline to fill out the survey is Thursday, February 24, end of day.
If you'd like to stay up to date with the #DemandAccess campaign, you can join our mailing list here.
As well, if you missed our #DemandAccess launch series, you can access the recording of our inaugural #DemandAccess event (Nov. 3) here, and follow it up with our second event (Dec. 16) here. Keep an eye out for a recording of our third and final event in the coming weeks!
It's past time that we invest in wellbeing, not weapons;  invest in care, not catastrophe; invest in healthy bodies and minds, not bombs. Join the #DemandAccess campaign today!
Lanterns afloat on Green Lake. Photo credit: Nancy Dickeman Do you think this would be a good moment to strengthen the "nuclear taboo"? You're not...