It's budget season. Tell Congress to divest from war.
June 13, 2022
This action alert is no longer active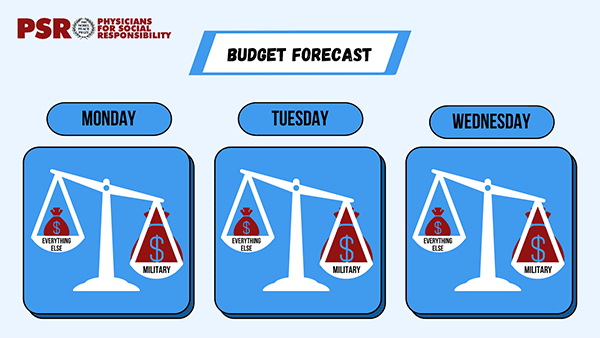 Key Congressional committees are deliberating on President Biden's budget recommendations for 2023. The topline military budget offered by the White House — a horrendous $813 billion, mostly for weapons and war preparations — outlines general priorities, and Congress is now responsible for planning specifics.
$813 billion to the Pentagon, an agency with a long record of waste, fraud, and abuse, is the definition of excess. This exorbitant increase from the 2022 budget is concerning on its own, but several members of Congress are already insisting that the defense topline should be even higher. As the budgeting process begins, members of Congress will face increased requests from the arms industry to add tens of billions of dollars to this already massive amount.
Our communities are starved for investment as the military budget increases without scrutiny. We must demand significant Pentagon budget cuts in order to address the most pressing issues facing our country, including climate change, access to health care, infrastructure, education, and more. Experts at the Congressional Budget Office have determined that the Pentagon budget could be cut by $1 trillion dollars over the next decade without impacting our military readiness. Join us in demanding a $100 billion dollar cut to Biden's egregious topline request and a reinvestment in community needs.
Urge Congress to cut the Pentagon budget today!
It's a critical moment for your voice to be heard.
Stay tuned throughout the next several months for updates on the Fiscal Year 2023 budgeting process, and for further opportunities to urge your elected officials to prioritize human needs over excessive military spending. We cannot do this work without you!
This action alert is no longer active This week, as the NDAA (National Defense Authorization Act) is considered on the floor of the House, Representatives...
This action alert is no longer active Image: PSR Colorado / CC BY-NC 4.0 Gas stoves emit dangerous air pollutants that harm our lungs, hearts...
This action alert is no longer active The debt limit deal backed by President Biden and House Speaker Kevin McCarthy includes not one but two...