Particulate matter is a common air pollutant generated from many sources. It is a complex mixture of substances, defined not by its chemical makeup but by its size. These microscopic, inhalable particles are complex and harmful mixtures of airborne toxics that may include sulfur, nitrogen, carbon, acids, and metals.


PM10 are particles with diameters that are 10 micrometers and smaller.
 PM2.5 or fine particulates have diameters 2.5 micrometers and smaller. A micrometer is a very small measurement; for example, the average human hair is about 70 micrometers in diameter – 30 times larger than the largest particle of PM2.5.
PM is directly emitted from multiple sources. Coal combustion in coal-fired power plants, SO2 and NOx in the atmosphere, construction sites, unpaved roads, fields, smokestacks, and fires are common sources of PM.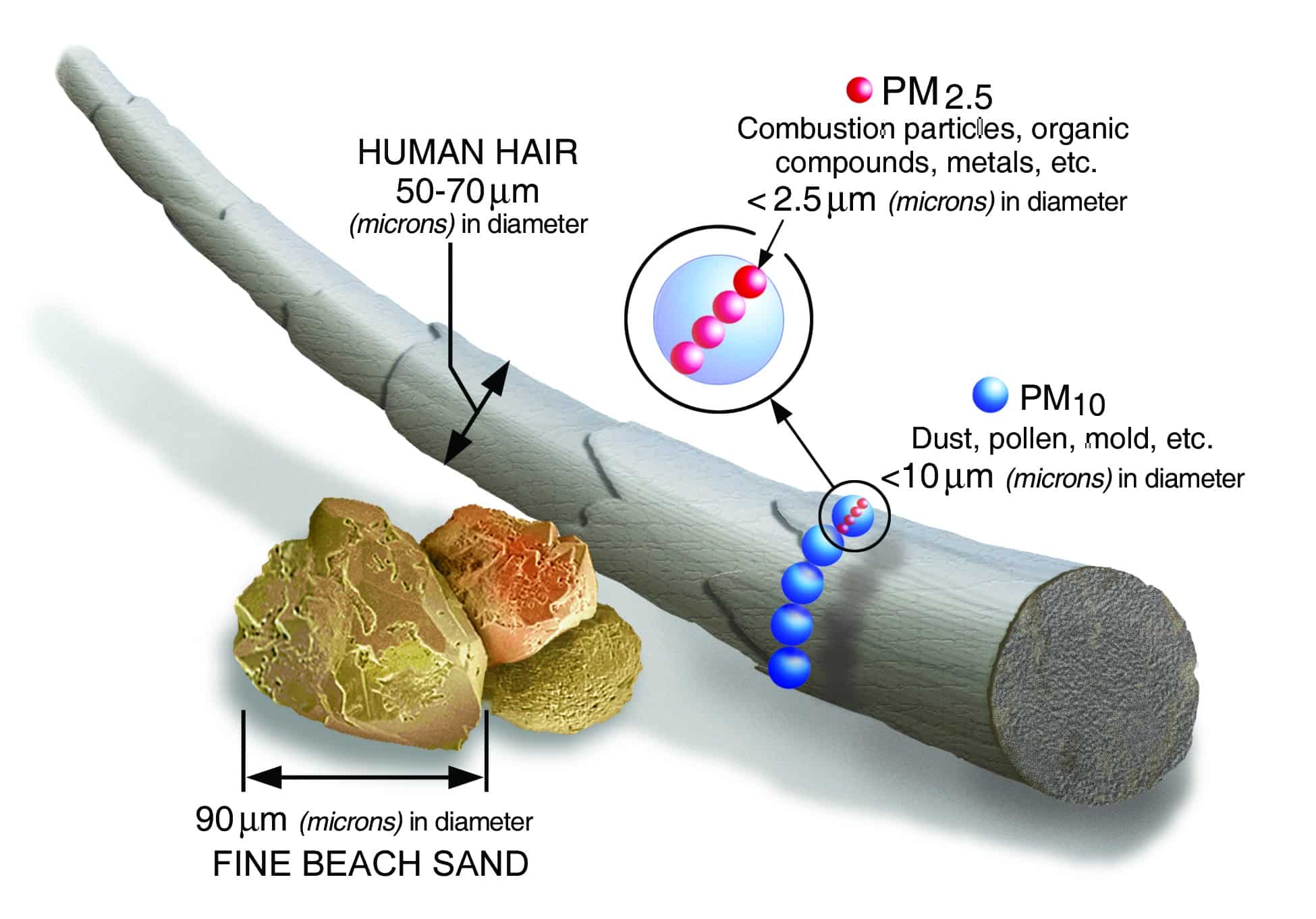 PM causes a multitude of effects including nonfatal heart attacks, irregular heartbeat, aggravated asthma, decreased lung function, and increased respiratory symptoms, such as irritation of the airways, coughing, or difficulty breathing.
PM exposure causes the development of inflammation on the cellular level, which in turn can lead to exacerbations of Chronic Obstructive Pulmonary Disease (COPD). COPD is the fourth leading cause of mortality in the U.S.
Exposures to PM are also correlated with the development of and mortality from lung cancer, the leading cancer killer in both men and women.
PM2.5 crosses from the lung into the bloodstream and travels throughout the body, which can result in inflammation of the cardiac system, a root cause of heart attack and stroke, and possibly leading to premature death.
Once in the brain, PM causes inflammation and appears to lead to the deposition of amyloid, a neuropathological feature characteristic of Alzheimer's Disorder.
PM exposure is also linked to low birth weight, premature birth, chronic airway obstruction and remodeling, and sudden infant death.
PSR Urges EPA to Strengthen Its National Ambient Air Quality Standards
The U.S. EPA regulates inhalable particles smaller than 10 micrometers. EPA's national and regional rules to reduce emissions of pollutants that form PM can help local governments meet the agency's national ambient air quality standards (NAAQS).
EPA is conducting a periodic reconsideration of the NAAQS for PM. PSR believes that EPA's proposal to set the primary annual standard for PM2.5 at 9 to 10 micrograms per cubic meter is too high to adequately protect human health. 
PSR urges the EPA to set the standard at 5 micrograms or less per cubic meter, based on studies that have shown an association between long-term PM2.5 exposure and all non-accidental mortality, even at these extremely low levels of PM concentration.
Latest Air Pollution News & Actions
If you live outside of Maine, Connecticut, or Colorado, the money you pay towards your monthly electricity bill can legally fund consultants and lobbyists that are pushing fossil fuels in your state government.