Is Your State Resolved to Prevent Nuclear War?
February 22, 2019
Now more than ever, with the United States' planned withdrawal from the Intermediate-Range Nuclear Forces (INF) Treaty, new so-called "low-yield" nuclear weapons going into production, a U.S. President who's determined to "out-innovate" other nations in a new nuclear arms race, it seems that we are edging closer and closer to the ultimate threat to human health and survival: nuclear war.
But in several states—including Washington, pictured—concerned citizens have asked their state legislators to step up to the plate and take state-level action to reduce nuclear weapons dangers, in the form of state house or senate resolutions.
PSR and our chapters are proud to participate in multi-organization coalition efforts at the state and national level to address the nuclear threat and advance pro-active measures to prevent nuclear war, including through local and state-wide legislation.
That's where you have a critical role to play.
In introducing the joint memorial to the Washington State Senate, state senator Bob Hasegawa said: "I think we need to not just lead by example for the benefit of the world. But for self-preservation sake."
Though all of this legislation  calls  attention to the increasing nuclear weapons dangers, each of these state-level resolutions is different.  Several are inspired Back from the Brink, a diverse coalition-led initiative that calls for these policy changes: renouncing the option of using nuclear weapons first ("no first use"); end the sole, unchecked authority of any U.S. president to launch a nuclear attack; take U.S. nuclear weapons off hair-trigger alert; cancel the plan to replace the entire U.S. nuclear arsenal with enhanced weapons; and actively pursue a verifiable agreement among nuclear-armed states to eliminate their nuclear arsenals.
Several more state resolutions focus attention on the "no first use" recommend, echoing and supporting national legislation introduced by Rep. Adam Smith (D-WA), chair of House Armed Services Committee, and Sen. Elizabeth Warren (D-MA). PSR supports all of these state efforts.
Is there an active effort in your state? Find out how to get involved below. If there isn't yet a campaign where you live, and you're interested in promoting such resolutions locally, check out preventnuclearwar.org, which features a handy toolkit and resources. Want to know more about this coalition activity? Please email Martin Fleck, Nuclear Weapons Abolition Program Director, mfleck@psr.org.
Here are states where resolutions are in play, in reverse alphabetical order:
Washington state
This joint resolution features a significant Back from the Brink component and stands a good chance at passage: Rep. Gael Tarleton is leading HJM 4008, and State Senators Bob Hasegawa and Karen Keiser are championing SJM 8006. The Washington legislature held a hearing on the joint memorial on nuclear weapons on February 22, and, thanks to the hard work of Washington PSR and the Washington Against Washington Against Nuclear Weapons Coalition, SJM 8006 passed out of committee. This effort was featured in the Bainbridge Island Review. This is a great example of what ordinary citizens can do.
Who to contact to get involved: Carly Brook, Washington PSR, carly@wpsr.org
Vermont
State Representative Mary Sullivan introduced a "no first use" resolution, J.R.H. 1, which currently has 22 sponsors.
Who to contact to get involved: Samantha Blake, WAND, sblake@wand.org
Oregon
State Senator Michael Dembrow and State Representatives Tawna Sanchez and Alissa Keny-Guyer are leading efforts to pass L.C. 3676, based on Back from the Brink.
Who to contact to get involved: Kelly Campbell, Oregon PSR, kelly@oregonpsr.org
New Jersey
State Assemblywoman Nancy Pinkin introduced a No First Use resolution, A.R. 216.
Who to contact to get involved: Samantha Blake, WAND, sblake@wand.org
Minnesota
For 2019, Minnesota legislators have introduced a  Back from the Brink resolution, S.F. 84 led by State Senators Scott Dibble, John Marty, and Sandra Pappas and companion bill H.F. 669, led by State Representatives Raymond Dehn, Frank Hornstein, Aisha Gomez, and Hodan Hassan.
Also, State Representative Rena Moran introduced a "no first use" resolution, H.F. 460, and State Senator Patricia Torres Ray introduced the companion bill, S.F. 344.
Who to contact to get involved: Samantha Blake, WAND, sblake@wand.org
Massachusetts
State Senator Jo Comerford introduced a Back from the Brink resolution, SD 1542, and Representative Lindsay Sabadosa introduced a companion bill in the House, HD3527.
Also, State Representative Natalie Higgins introduced "no first use" resolution H.D. 2967. State Senator Patricia Jehlen has introduced companion bill S.D. 1302.
Who to contact to get involved: Anna Baker, Greater Boston PSR, abaker@gbpsr.org
Maryland
Although the legislature does not have an actual resolution, efforts are underway to generate a letter from MD state leadership expressing support for changing U.S. policy to no first use. This effort is led by Delegate Pamela Queen, with State Senator Bill Ferguson supporting efforts on the State Senate side.
Who to contact to get involved: Gwen DuBois, Chesapeake PSR, bikenotbomb@gmail.com
Maine
PSR Maine worked with a local coalition to introduce a statewide resolution in the Maine state legislature, championed by State Senator Geoff Gratwick and Representative Ben Collings. On January 23, Portland, Maine passed a city resolution, which bodes well for popular support.
Who to contact to get involved: Karen D'Andrea, PSR Maine, karen@psrmaine.org
District of Columbia
A DC Council resolution led by Councilman David Grosso is set to be voted on on March 5. The resolution features major Back from the Brink principles and expresses a commitment to work to prevent nuclear war.
Who to contact to get involved: Danny Hall, SGI-USA, dhall@sgi-usa.org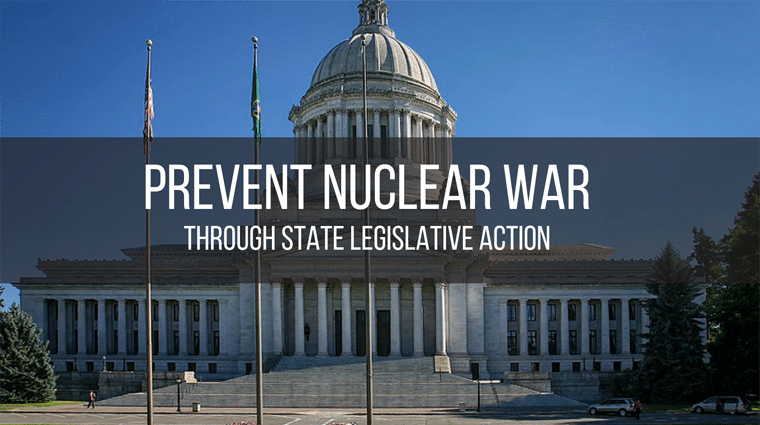 On November 3 in Washington, DC, Physicians for Social Responsibility bestowed a Health Hero Award upon Tina Cordova, co-founder of the Tularosa Basin Downwinders Consortium. ...
On November 16, 218 mayors, city councilors, county and municipal officials and state legislators from around the United States delivered a letter to President Joe Biden...
Three important reports on climate change were issued recently – and the news isn't good. They found widespread impacts and more billion-dollar climate- and weather-related...