In July: Hollywood takes on "the father of the atomic bomb"
June 26, 2023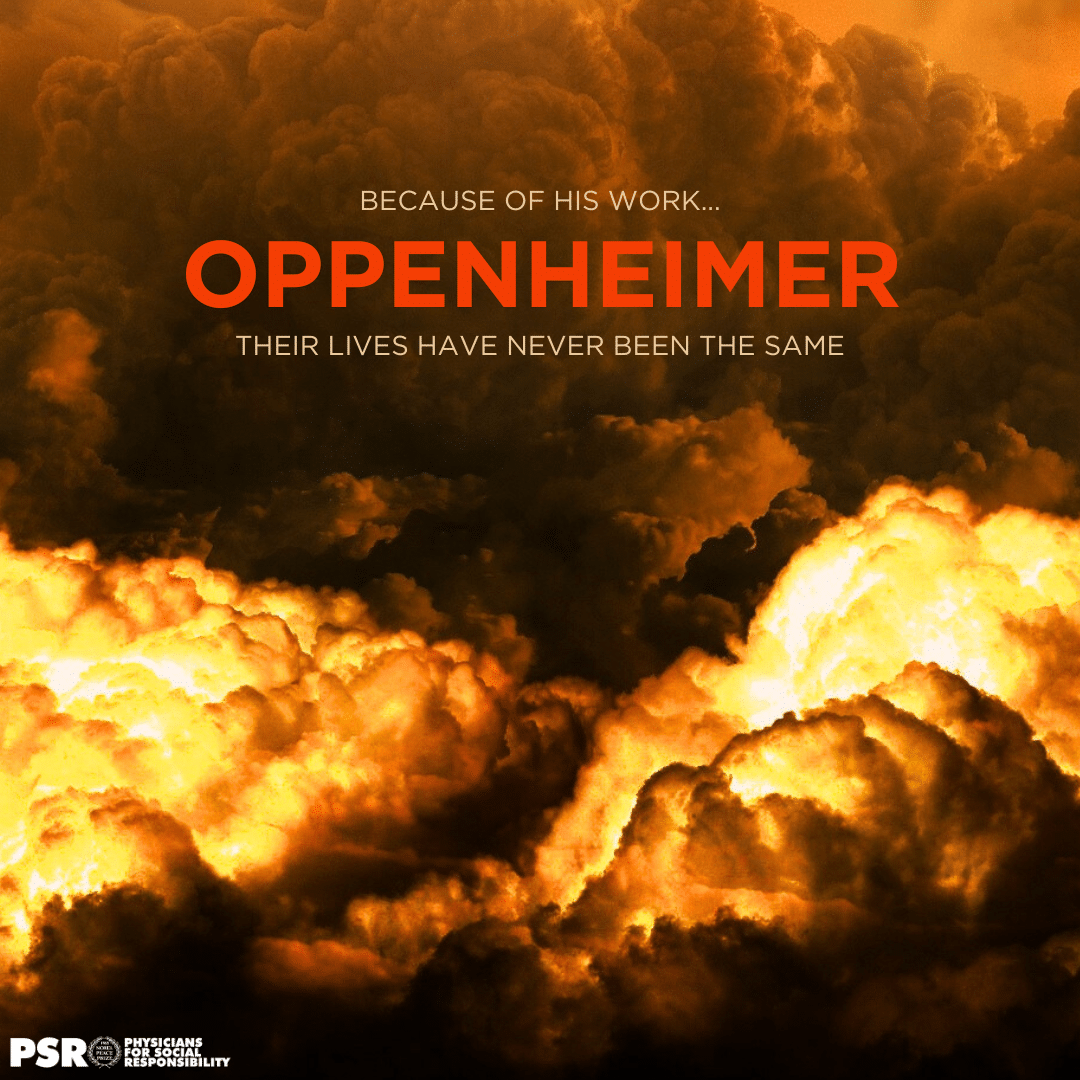 This summer, highbrow director Christopher Nolan and an all-star cast will shine their Hollywood spotlight on "the father of the atomic bomb." Nolan's latest film, Oppenheimer, premieres on July 21. During World War II, J. Robert Oppenheimer directed the super-secret Manhattan Project that created the three atomic bombs that ushered in the Nuclear Era.
PSR, PSR chapters, and allied organizations including Back from the Brink coalition and Ploughshares Fund will be working together to help you utilize this "teachable moment" for a new generation to grapple with the realities of nuclear weapons. With local partners, Ploughshares is organizing film screenings in seven U.S. cities. If you'd like access to more information and materials, please stay tuned to psr.org or get in touch with PSR Nuclear Weapons Abolition Program Director, Martin Fleck, mfleck@psr.org
The content of the film has been kept under wraps. It is safe to assume that the original Trinity bomb test in New Mexico will be rendered in surround sound and technicolor, but what about the humanitarian impact of uranium mining, nuclear testing (including Trinity), and the bombs detonated over Hiroshima and Nagasaki? Will the film portray the present-day nuclear dangers that Oppenheimer warned of? Find out where Oppenheimer will play in your hometown here.
So, will the film be entertaining? Kai Bird, who co-authored the definitive, Pulitzer-winning Oppenheimer biography American Prometheus, has seen the film. In a May 18 interview, he said:
"I am, at the moment, stunned and emotionally recovering from having seen it. I think it is going to be a stunning artistic achievement, and I have hopes it will actually stimulate a national, even global conversation about the issues that Oppenheimer was desperate to speak out about — about how to live in the atomic age, how to live with the bomb and about McCarthyism — what it means to be a patriot, and what is the role for a scientist in a society drenched with technology and science, to speak out about public issues."
The cast of Oppenheimer includes Cillian Murphy, Emily Blunt, Matt Damon, Florence Pugh, Robert Downey, Jr., Gary Oldman and Rami Malek.
If you have an unshaded roof at your home or business, now is the time to install solar panels and claim a $7,500 credit on...