Help PSR support vulnerable communities – restore Medicaid to COFA communities
April 21, 2020
This action alert is no longer active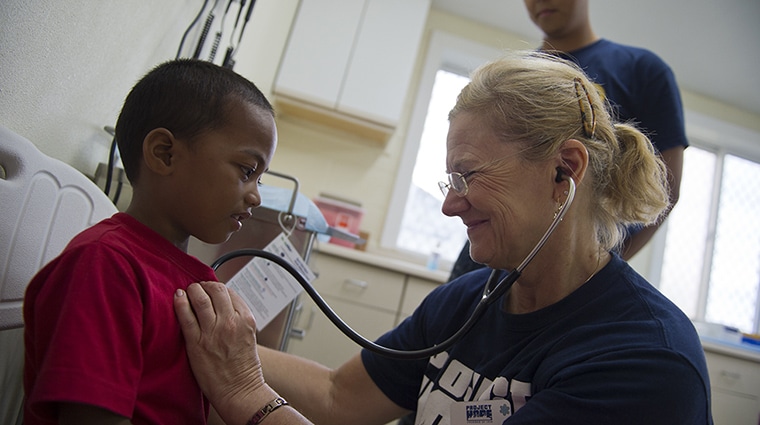 As the Covid crisis continues to alter our way of life in the United States, PSR and allied nuclear disarmament groups seek to aid those who need help facing the worst of the current health crisis. While we remain committed to ending the scourge of nuclear weapons, we also remain committed to our "frontline" allies who have been impacted the most by nuclear weapons and their production. These people need access to health care, and you can help them get it.
COVID-19 carries special health risks for many people who have been exposed to radiation and other toxins as a result of the development, testing, and production of nuclear weapons. Individuals in these communities often have underlying health factors which magnify their risks, including these exposures, air and water pollution, poverty, poor nutrition and institutionalized racism. These exposed populations are disproportionately from indigenous communities, communities of color, low-income, or rural communities, and they often face significant barriers to receiving adequate health care.
Some of those vulnerable populations include COFA (Compact of Free Association) communities. COFA is a special agreement between the U.S. and three Pacific Island countries: the Marshall Islands, Palau, and Micronesia. It allows residents of these countries to live and work in the U.S., while giving the U.S. exclusive military use and strategic positioning in the Pacific. The COFA agreement included Medicaid coverage until 1996, when Congress wrongly stripped it from COFA residents, leaving many without health care access entirely.
Many COFA residents, especially those from the Marshall Islands, have severe health issues related to the 67 nuclear weapons tests conducted in the Marshall Islands. Access to adequate health care has been a major part of the Marshallese community's fight for justice in the wake of these tests. The COVID-19 crisis is highlighting the disparities in access to health care across our country, including for COFA communities. Access to basic services like Medicaid are crucial for the tens of thousands of Marshallese and other COFA communities in the U.S. to receive care. Fortunately, a bill with bipartisan support has been introduced in Congress to help COFA communities get the health care coverage they need and deserve, especially in the midst of a global pandemic.
Introduced by Representative Tony Cardenas, the "Covering our FAS Allies Act" (H.R.4821) would "restore Medicaid coverage for citizens of the Freely Associated States lawfully residing in the United States under the Compacts of Free Association between the Government of the United States and the Governments of the Federated States of Micronesia, the Republic of the Marshall Islands, and the Republic of Palau."
Join our allies in the fight to get these communities the healthcare they need and deserve. Tell your U.S. representative to cosponsor the "Covering our FAS Allies Act".
Take action today and make your voice heard!
This action alert is no longer active Photo: Max Nossin / CC BY 3.0 On May 17, President Biden will depart the United States, headed...