The Biggest Malpractice: How Hospitals Betray the Public Trust with Billions in Fossil Fuel Pension Investments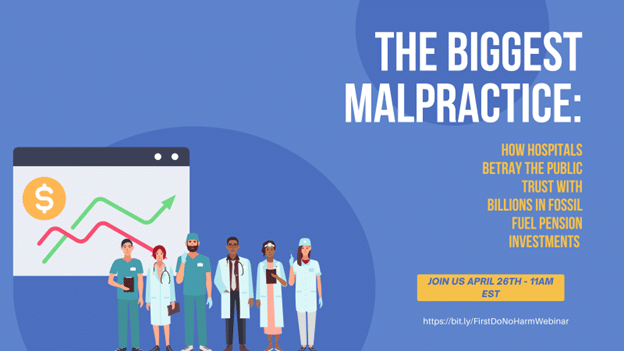 The urgency of the climate crisis, the implications for global public health and equity, and the health sector's singularly unique responsibilities towards public health demands a response from the health sector that directly addresses this root cause.
In this report release we will document the levels of fossil fuel investments at major US healthcare institutions and how these investments contradict the "Calls to Action" to decarbonize from within the sector itself and  how such investments directly contradict the Hippocratic oath at the heart of the healthcare profession.
There are some 1,200 private hospital systems in the U.S., each with varying amounts of funds invested in oil, coal, or gas holdings. It's absurd, and entirely hypocritical, for healthcare institutions to continue to make these investment choices. Climate change represents a massive health crisis. Healthcare pensions can and must divest from fossil fuels to protect our health and our frontline communities that are so disproportionately affected by the fossil fuel industry.
Hear from speakers from First Do No Harm, Stand.earth, IEEFA and many more on how the healthcare sector can protect our health and our pensions!
Featuring PSR Board Member Dr. Marjaneh Moini.