Honoring Silent Spring: Stories from the Frontlines of the Fight for a Pesticide-Free Future
October 25, 2022 @ 10:00 am - 11:30 am PDT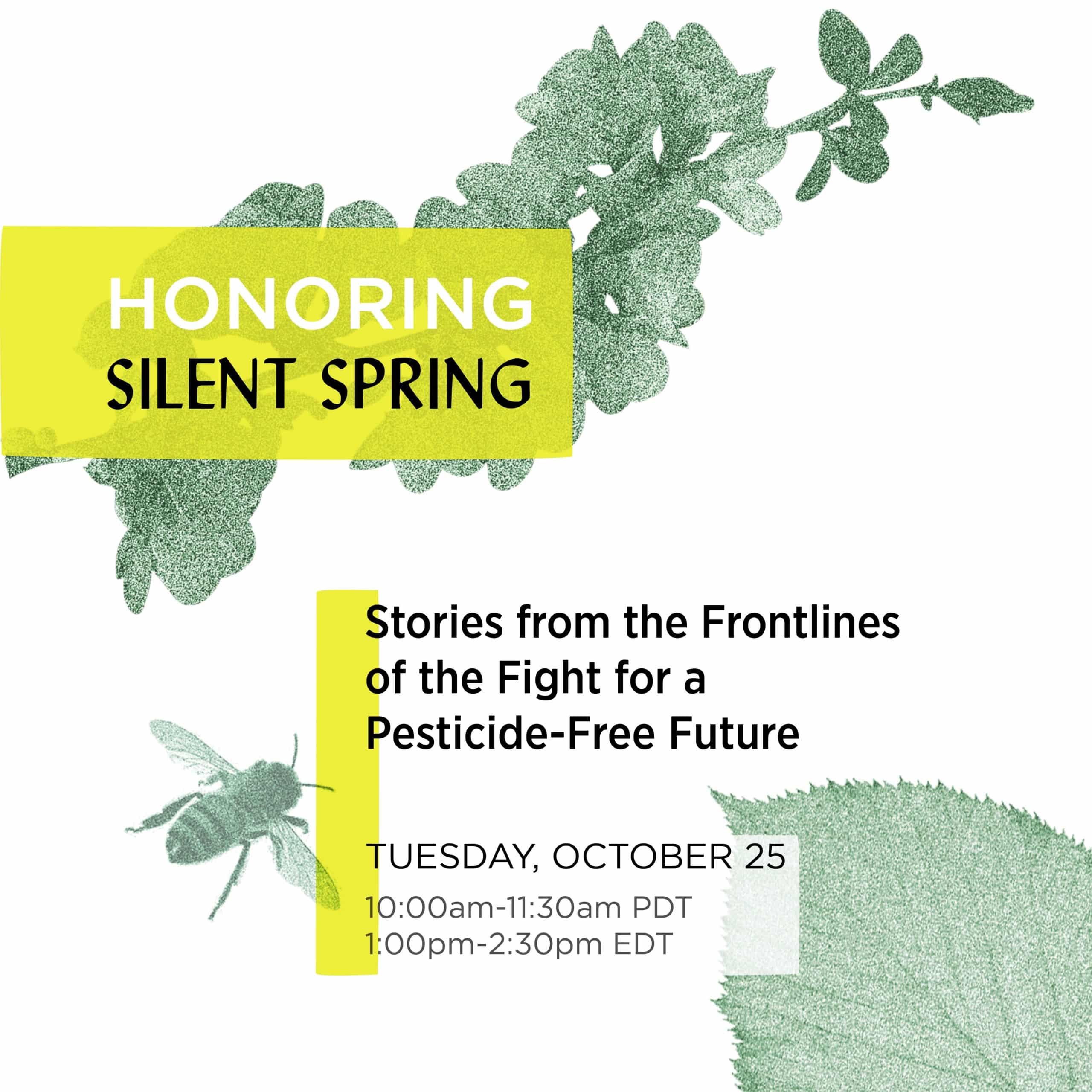 Hosted by Friends of the Earth, co-sponsored by SF Bay PSR and many others
Sixty years ago, Rachel Carson released her seminal book, Silent Spring, whose publication gave birth to the EPA, Clean Water Act, Clean Air Act, and sparked the ban on the toxic insecticide DDT and the movement for organic agriculture. Six decades on, the threats Carson warned about are still very real, as pesticide use continues to decimate ecosystems and our bodies, leading to an untold number of cancers, neurological disorders, premature deaths, and reproductive problems. Today, we know another devastating cost: the grave consequences of pesticides, like all petrochemicals, on our climate.
Despite Carson's warnings and the ever-increasing evidence of pesticide impacts, these chemicals remain largely unregulated in the United States and much of the world. In this engaging webinar, we'll honor this Silent Spring milestone by hearing from farmworkers, farmers, scientists, investigative journalists, and policymakers about what's at stake and what we can do about it. We'll also hear about pesticide industry PR tactics, dating back to Silent Spring, deployed to manufacture doubt about the science on pesticides' harms and to protect industry profits at all costs. Moderated by author, advocate, and funder Anna Lappé, this webinar is for everyone eager to learn, get inspired, and take action to carry on the legacy of Silent Spring.
To share on social media please use #SilentSpringat60.
SPEAKERS
Moderator: Anna Lappé, author and advocate, Panta Rhea Foundation / Real Food Media
Angel Garcia, co-director, Californians for Pesticide Reform
George Naylor, organic farmer and board member of Center for Food Safety and Family Farm Defenders
Kendra Klein, deputy director of science, Friends of the Earth
Carey Gillam, journalist and author, The Monsanto Papers