Breast Cancer and the Environment & Advances in Detection and Treatment
October 15, 2022 @ 9:00 am - 2:30 pm CDT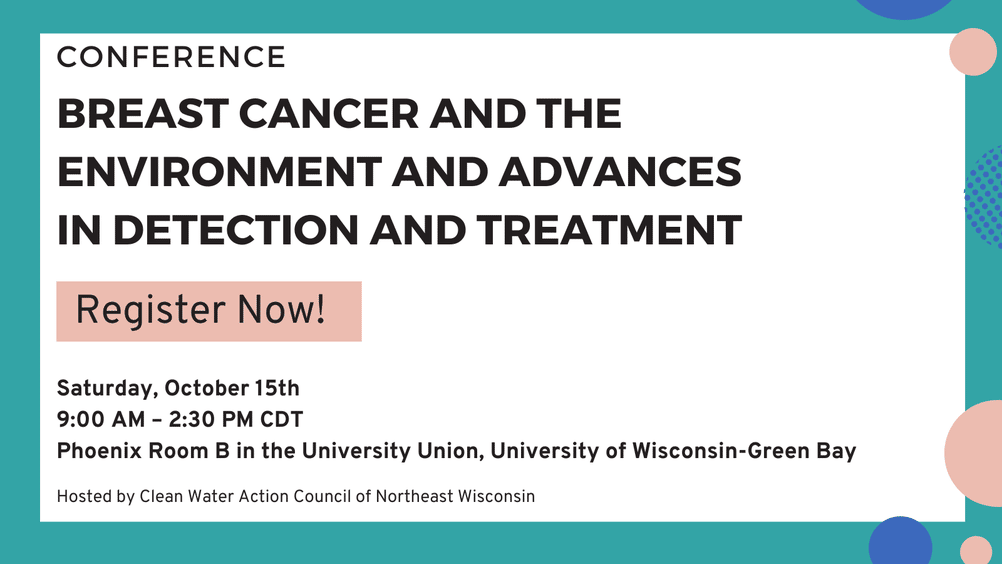 Wisconsin Environmental Health Network (the environmental sub-group of Physicians for Social Responsibility Wisconsin) is proud to sponsor this event. Participants will learn the environmental links to breast cancer as well as the advances in detection, genetic counseling, and treatment. Lunch is provided.
Event Topics:
Cancer and the Environment with Summer-Solstice Thomas, Silent Spring Institute
Advances in Prevention and Early Detection of Breast Cancer with Colette Salm-Schmid, MD, FACS
Genetic Counseling and Hereditary Cancer Testing with Sumedha Ghate, MS, CGC, Genetic Counselor, Medical Genetics, HSHS St. Vincent Hospital
Advances in Treatment with oncologist, Dr. Umang Gautam
The event is hosted by Clean Water Action Council of Northeast Wisconsin.