Crystal Mateo Joins PSR National as Climate & Health Fellow
October 30, 2023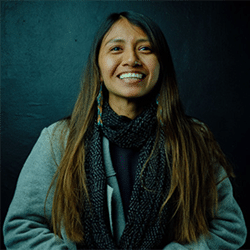 PSR National welcomes our newest addition to the team, Crystal Mateo. Crystal is our new Climate & Health Fellow who will lead our Next Generation Climate Ambassador program. She is a Zapotec environmentalist, educator, community builder, and a veterinarian in progress at Colorado State University working towards a Master's in Toxicology and a Doctorate in Veterinary Medicine. Her indigenous community has taught her the importance of approaching current social injustices using a holistic lens as animal, human, and environmental health are strongly interconnected. Please join us in welcoming Crystal!
On November 3 in Washington, DC, Physicians for Social Responsibility bestowed a Health Hero Award upon Tina Cordova, co-founder of the Tularosa Basin Downwinders Consortium. ...
On November 16, 218 mayors, city councilors, county and municipal officials and state legislators from around the United States delivered a letter to President Joe Biden...
Three important reports on climate change were issued recently – and the news isn't good. They found widespread impacts and more billion-dollar climate- and weather-related...