Congress has made it clear that it prioritizes weapons over the American people
September 23, 2021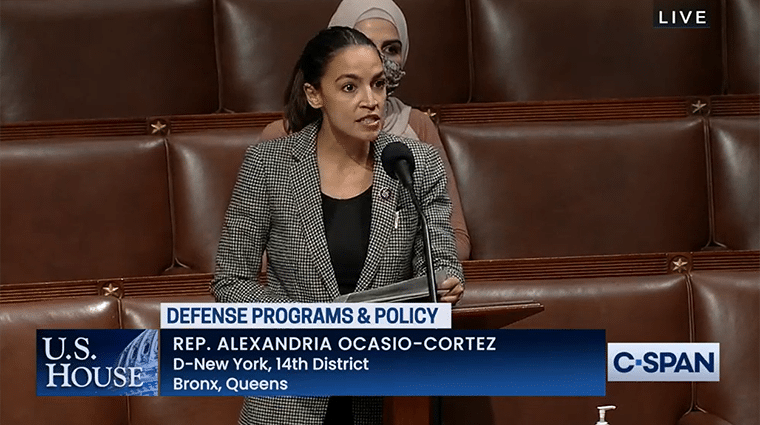 On July 22, the Senate Armed Services Committee voted to add $25 billion to the already monstrous $743 billion military budget proposed by President Biden. Then, on September 1, the House Armed Services Committee voted separately to add $24 billion to the military budget. Of the total amount, around $40.4 billion will be spent on nuclear weapons. Despite efforts from PSR, allied organizations, and more progressive members of Congress like Representative Alexandria Ocasio-Cortez (NY) (pictured) to reduce the ballooning military budget, the increase was adopted in the House version of the NDAA. If that isn't egregious enough, Congress earlier cut $30 billion that was meant to prevent future pandemics, according to The Atlantic. Make no mistake: Congress is telling us that it cares more about funding more weapons than it does about public health and saving American lives.
If these increases make their way into the final budget, not only will the US be spending more money than the next 12 largest countries' military budgets combined, but we will also be spending more on the military, adjusted for inflation,  than we did at the height of the Korean War and the Vietnam War. PSR supported several amendments to the House National Defense Authorization Act intended to cut back the out-of-control military budget, including amendments proposed by progressive members of Congress like Representatives Alexandria Ocasio-Cortez and Mark Pocan (WI) to reduce the military budget by 10%, and Rep. Barbara Lee's (CA) amendment to cut the additional funds proposed by the House. The budget fight in the Senate is yet ahead.
After more than a year and a half of a global struggle to end the Covid-19 pandemic, it is a slap in the face to cut funding to prevent another deadly global pandemic while throwing endless amounts of money toward weapons of war.  As Rep. Mark Pocan says, "we can't bomb our way out of a pandemic."
And Rep. Pocan is right. We can't bomb ourselves out of a pandemic. With your help, PSR will continue to fight for spending priorities that will create a robust, effective public health system that benefits all.
Gas stoves pose a health risk, particularly for children and the elderly. People living in homes with gas stoves experience higher rates of asthma, lung...