Citizen Advocacy for Climate Action Now: 100% Clean Energy Economy
August 15, 2019
This action alert is no longer active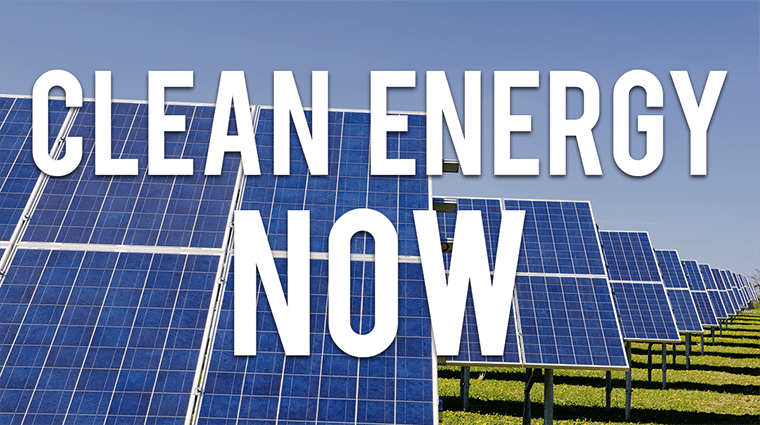 From drought and extreme heat to flooding, hurricanes, wildfires and sea level rise, communities across the country are feeling the impacts of climate change on our health, communities and economies. It's time for our federal leaders to step up and support bold climate action by transitioning our country to a 100% clean energy economy.
A United States powered by 100 percent clean energy by 2050 is the goal of a new bill that will soon be introduced in Congress, the "100% Clean Economy Act of 2019."  This new bill is consistent with the findings of the Intergovernmental Panel on Climate Change and would set several new environmentally responsible requirements, including:
Requiring net-zero greenhouse gas emissions economy-wide by 2050;
Replacing fossil fuels with wind, solar and other clean sources of energy across all sectors of our economy, including transportation, power and manufacturing;
Directing federal agencies to develop plans and use existing authority to cut carbon pollution.
Please take this opportunity to ask your representative, while they are in-district during the August recess, to co-sponsor the "100% Clean Economy Act of 2019" when it is introduced in the Fall.
Why?
Rep. McEachin, the bill's sponsor, is seeking cosponsors for when he introduces the "100% Clean Economy Act of 2019" this Fall. To move the ball forward on 100% clean energy solutions and address the climate crisis, we need more representatives to support and co-sponsor this bill for 100% clean energy solutions.
When?
Set up a meeting between now and September 8th, during Congress's annual August recess, when it is quite likely that your U.S. Representative is back home "in-district." There is no better time to focus their attention on addressing the climate change crisis by supporting 100% Clean Energy.
How?
1) Find your representative's website. Googling should work, but as a backup, use house.gov/representatives. Find the listing for the district office nearest you, and get the phone number.
2) Give the district office a call during business hours, identify yourself as a constituent, and ask for a meeting with your representative while they are in district during the August recess. Tell the staff you wish to discuss the climate crisis as a health emergency. Definitely agree to meet with staff if you are unable to get a meeting with the representative. Meeting with local staff is another excellent way to convey your message, and it allows you to cultivate a relationship that will help your advocacy efforts in the future.
3) Set a meeting time that will work for you. Feel free to invite other colleagues and advocates who care deeply about these issues and support 100% clean energy solutions.
4) Notify me, Antonia Herzog, at PSR that you've landed a meeting by emailing aherzog@psr.org. Feel free to reach out to me for advice about your representative, and if you experience any issues scheduling a meeting or have any concerns.
5) Prepare for your meeting by consulting these talking points to plan the outline for your discussion.
6) At the meeting, share your concerns about climate change and the urgent need for bold clean energy solutions. Most importantly, ensure you make the specific ask before the meeting ends: "Representative McEachin plans to introduced the '100% Clean Economy Act of 2019′ this Fall. Will you cosponsor the bill when it is introduced?"
You can bring copies of the following factsheets to the meeting as relevant to your discussion to give to the representative and their staff:
7) Important: after the meeting, visit hub.psr.org to report to PSR about your meeting.
8) Send a thank-you message to the congressperson through their website. If you met with a staffer, send a thank-you card or email.
Thank you, citizen-advocate, for stepping up to the plate to urge your U.S. Representative to take action on climate change and push for 100% clean energy solutions!
This action alert is no longer active This week, as the NDAA (National Defense Authorization Act) is considered on the floor of the House, Representatives...