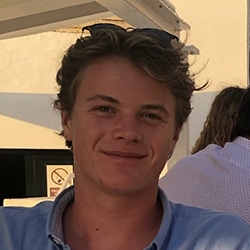 Orlando Bell is the summer intern for the Nuclear Weapons Abolition Program at Physicians for Social Responsibility. Orlando brings experience in political research, lobbying, open-source intelligence, and public polling from his time at London-based firms SABI Strategy Group, The Blakeney Group, and Ranelagh Political Communications.
Orlando graduated from Durham University with a first-class bachelor's degree in History, ranking third amongst his department peers. Orlando spent the final two years of study engaging primarily with development policy and conflict in post-war East Africa, while his dissertation thesis focused on the central myths of statehood within the context of early-colonial Sudan. Additionally, Orlando spent three years writing for Palatinate Newspaper, the UK's largest student newspaper, on matters of UK politics, climate change, and post-truth.
Orlando joins PSR hoping to move away from the communications world and towards advocacy to help shape a more equitable, just, and sustainable future.