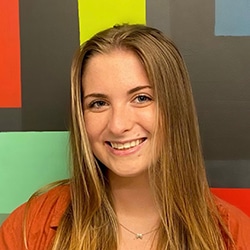 Miah Hornyak is the Policy Coordinator for the Environment & Health Program at Physicians for Social Responsibility. She has long been an advocate for environmental justice and public health in both professional and volunteer capacities.
Prior to joining PSR, Miah worked for a number of environmental nonprofits doing community organizing, issue advocacy, and electing environmentalists to office. While interning with Women for a Healthy Environment she contributed to the State of Environmental Health in Pennsylvania Schools report. This report emphasized the importance of funding our education system properly to keep future generations safe from environmental harms while they learn. Through her work as a Field Coordinator with Conservation Voters of PA, she helped to elect the first pro-environment majority in Pennsylvania's State House of Representatives in over a decade as well as a pro-environment Governor.
Miah received her M.A. in Environmental Policy from Lehigh University with a focus in environmental justice in 2020 and her B.A. from the University of Pittsburgh in Political Science and Environmental Studies in 2019.