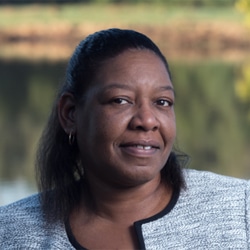 Joy L. Blackwood is a public health educator, HIV/AIDS advocate and a national nonprofit leader, currently Director of DC Strategy at People's Action. She served as the first Urban Refuge Program Director at the National Wildlife Refuge Association, working in partnership with the U.S. Fish and Wildlife Service, conservation nonprofits, Friends groups and community organizations to engage with and connect diverse audiences and communities to the ecological richness and benefits of our nation's public lands and waters.
Prior to working to bring more awareness to national wildlife refuges in urban and suburban areas, Joy spent a decade directing a distinguished coalition of environmental, conservation and science-based nonprofit executives (GreenGroup). She led the development of the Green Leadership Trust, a network of people of color and Indigenous people who serve on environmental boards, that work to build power within the environmental sector by diversifying its leadership through promotion of best practices and other resources, and by driving the leadership pipeline. She was also an instrumental team member in helping to pass the American Clean Energy and Security (ACES) Act in the U.S. House of Representatives during the Obama Administration.
Joy currently serves as Vice Chair of the Maryland League of Conservation Voters Education Fund and Chair of its Diversity, Equity, Inclusion and Justice Board Committee. Joy is also a board member with the Green Leadership Trust, actively engages with several board-level committees, and most recently has started to mentor young professionals looking to work in the environmental and conservation sector.
Joy's passion for protecting the majestic places we so cherish and her commitment to diversifying the environmental and conservation sector is deeply rooted in her British and Jamaican background, as well as the years devoted to changing the public's opinion and understanding of the Green movement.