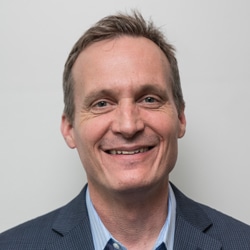 Jeff Carter has served as the Executive Director of Physicians for Social Responsibility since January of 2017. Jeff is an attorney and nonprofit executive with over two decades of experience in the nonprofit sector.
Jeff's priorities at PSR have been on strengthening collaboration with and among PSR's chapters and other partners; providing greater focus for PSR's national staff, driven by clear goals and objectives; strengthening PSR's relationship with foundation funders; and establishing a more rigorous and ongoing program assessment process, including measures related to diversity, equity, inclusion, and racial justice.
In recent years, Jeff has been working with leaders in the peace and security field to mentor emerging leaders and address racial justice and gender equity. He is the chair of #OrgsInSolidarity's working group on hiring, a member of the Gender Champions in Nuclear Policy leadership network, and a 2020 fellow in NSquare's Innovators Network, a community of cross-sector leaders working together to bring diversity, new ideas, and fresh perspectives to the nuclear arms control field. Jeff also serves a member of the Board of Directors of the Partnership Project, which provides a hub for environmental movement organizations to work together on large-scale national campaigns.
The bulk of Jeff's career prior to his arrival at PSR was focused on education policy; in particular, as a national leader on federal adult education policy. From 2014-2016, he served as the President of the National Coalition for Literacy and, in 2018, as the President of the Committee for Education Funding (CEF), the largest nonpartisan coalition of national education advocacy groups in the U.S. In September 2018, he was awarded a Literacy Leadership Award by NCL for his "long and effective career as an advocate for adult literacy and adult education."
From 2015-16, Jeff served as the Executive Director of the National Adult Education Professional Development Consortium (NAEPDC) and the National Council of State Directors of Adult Education (NCSDAE)—two partner organizations, which, at the time, served together as the national association for U.S. state directors of adult education. Earlier in his career, Jeff was the Director of Policy and Government Affairs for ProLiteracy and later the founding Director of Adult Education Initiatives at Digital Promise, where he worked to support the development of new digital learning tools for low-skilled adults.
He received his bachelor's degree from Providence College and earned a law degree from Suffolk University Law School in Boston.