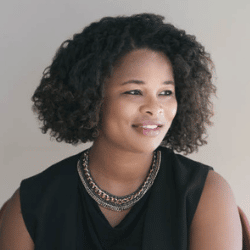 Danielle J. Brooks, JD has spent over a decade designing, leading and managing research, project development, strategy and implementation programs across a variety of industries including healthcare, media and communications, human rights, policy, and law. She prides herself on bridging creativity with strategic approaches that result in true impact. She is a recognized thought leader and expert in the field of health equity.
Danielle began her career as a policy fellow for former Governor and Secretary of Agriculture, Thomas Vilsack where she designed community building initiatives for members of the state of Iowa. She then followed this work by participating in a variety of positions including working for the Iowa Supreme Court developing anti-violence initiatives for minority populations; managing coalitions to influence the development of key Health IT policies that were codified into federal law; serving as an Executive Editor for the award winning blog Disruptive Women and Health Care; and, leading the development of the Iowa Accountability Program, Judicial Training Institute (IAP JTI She also served on the Health IT advisory board for the Transdisciplinary Collaborative Center (TCC) for Health Disparities Research at Morehouse School of Medicine, where she guided the organization on key media campaigns and policy. In addition to this appointment, she has also served on the Advisory Panel for Health IT, Health Disparities, and Improving Industry for the Patient Centered Outcome Research Institute (PCORI), co-chaired the Academy Health Low-Value Care Group and served as a subject matter expert and guest for NCQA blog, Digital Health Summit, and podcast. Danielle is the former owner and Managing Director of Bridges, a boutique healthcare consulting firm with national reach; the primary author of the Petal Framework, a Bridges and Morehouse School of Medicine project; and, a producer for the Healthcare Road Trip.
Currently, she is the Director for Health Equity, for AmeriHealth Caritas Family of Companies where she develops programs and initiatives both internally and externally to close disparities and create a culture of equity for the communities we serve. She also serves on the NCQA Health Equity Standards Committee and was appointed to the Biden Administration, Health and Human Services, Office of the National Coordinator Health Data Systems Task Force. The purpose of the task force is to inform Health and Human Services' response to President Biden's Executive Order on Ensuring a Data-Driven Response to COVID-19 and Future High-Consequence Public Health Threats. Danielle is also on the Advisory Board of the George Washington University School of Business, Women in Leadership Advisory Council and the Frazier Health Coalition
An Iowan, Danielle studied at Oberlin College and obtained a Bachelor of Arts degree in Politics. She then attended William and Mary School of Law, achieving her Juris Doctorate.