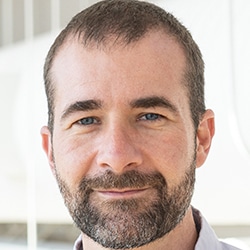 Brian Campbell is the Executive Director of Physicians for Social Responsibility.
Before joining the organization in November of 2023, Brian Campbell served as the Executive Director of the Iowa Environmental Council, a statewide coalition of more than 100 organizations and thousands of individuals, focused on education, advocacy, and organizing. Under his leadership, the Council developed a new strategic plan centered on climate change, environmental justice, clean water, and clean energy. Brian led a collaborative research project telling stories of environmental justice in Iowa, expanding conversations about diversity, equity, and inclusion in the state. As a member of the Des Moines Sustainability Task Force, he helped the city become the first in the world to adopt a 24/7 100% carbon free electricity goal, committing to fully phase out fossil fuels. He has served on numerous local, state, and regional boards. He is experienced in engaging policymakers at the local, state, and federal levels.
Brian has a BA from Davidson College in Davidson, North Carolina; a Masters from Pacific School of Religion in Berkeley, California; and a PhD from Emory University in Atlanta, Georgia. He spent over a decade working in higher education as a teacher, researcher, and administrator, most recently as Director of Sustainability Education and Partnerships at Central College, in Pella, Iowa. His academic work has focused on the history and culture of American environmentalism, especially the values, stories, and religious practices that shape people's sense of place and motivate them to protect their environments. Brian was co-producer of "Mid-Americana: Stories from a Changing Midwest," an oral history podcast highlighting the region's diverse people and places, including the story of Irene Maun, a Marshallese health advocate serving the growing population of refugees in Dubuque, Iowa displaced from the Pacific Islands by sea level rise and exposure to radiation from U.S. nuclear testing.
Brian grew up on the Alabama Gulf Coast and in the mountains of Western North Carolina. He and his family have lived in Des Moines, Iowa for nearly a decade. Brian enjoys baking bread, playing soccer, and exploring the outdoors.