Biden-Putin summit offers a glimmer of hope
June 24, 2021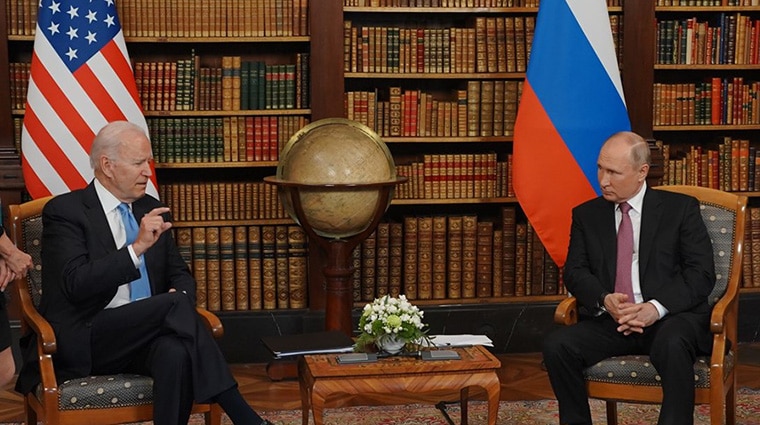 The June 16 summit meeting between Presidents Joe Biden and Vladimir Putin, in Geneva, signaled an incremental improvement in relations between the two superpowers. Ambassadors will return to their respective embassies and both sides committed to ongoing 'strategic stability' talks.
That commitment—and the attitude behind it—certainly augers to reduce the risk of nuclear war, but it pales in comparison with what is actually needed.  With the iconic Doomsday Clock standing at 100 seconds to midnight, it is long overdue for the leaders of these two nations—in possession of over 90% of the world's nuclear weapons—to pursue a verifiable agreement among all nine nuclear-armed countries to totally eliminate their nuclear arsenals.
On her MSNBC show on the day of the summit Rachel Maddow provided her viewers with a 'curb your enthusiasm' moment:
"You have both sides having the ability to destroy each other and the world several times over. … That's what they mean when they say 'strategic stability.' It is the most anodyne, problem-solving term and it is about the exact way we want to approach the end of the world as potentially effectuated by our two countries mutually, rather than in some unbalanced way."
In the lead-up to the Summit, nearly 900 PSR members sent messages to President Biden urging him to "aim high" (thank you) and two PSR chapter presidents encouraged progress with opinion pieces in the media. (PSR/San Francisco Bay Area President Bob Gould, MD in the New York Times and PSR-LA President Bob Dodge in Common Dreams.
Two days after the summit, the Washington Post published a letter by Chesapeake PSR President Gwen DuBois, MD.
The post-summit joint statement included this: "Today, we reaffirm the principle that a nuclear war cannot be won and must never be fought." That particular section has an interesting backstory.
Assisted by the Arms Control Association, 34 prominent individuals and organizational representatives from the United States and Russia—including David Drake, D.O. representing PSR–signed onto an open letter under joint letterhead of International Physicians for the Prevention of Nuclear War ( IPPNW ) and the Pugwash Conferences. (PSR is the United States affiliate of IPPNW). This "Appeal to Presidents Biden and Putin on the Occasion of Their Summit Meeting" urged both leaders to commit to nuclear risk reduction, and specifically urged the presidents to "reaffirm the joint statement of Mikhail Gorbachev and Ronald Reagan: 'A nuclear war cannot be won and must never be fought.'" Various experts and groups have been advocating this for years.
Nine days before the Geneva Summit, on June 7, Sergey Batsanov, former Russian Ambassador to the Conference on Disarmament, delivered the letter (which included his signature) to his Russian Foreign Ministry contacts. On the same day, former Undersecretary of Thomas Countryman, who served as Assistant Secretary of State for International Security and Nonproliferation in the Obama administration, led a delegation of several signers that hand-delivered the letter to National Security Council staff in the White House. The joint re-affirmation that emerged from the Geneva Summit that nuclear weapons are unusable is a step in the right direction that encourages PSR to push harder for swift progress toward disarmament—before our time runs out.
On November 3 in Washington, DC, Physicians for Social Responsibility bestowed a Health Hero Award upon Tina Cordova, co-founder of the Tularosa Basin Downwinders Consortium. ...
On November 16, 218 mayors, city councilors, county and municipal officials and state legislators from around the United States delivered a letter to President Joe Biden...
Three important reports on climate change were issued recently – and the news isn't good. They found widespread impacts and more billion-dollar climate- and weather-related...