Be a part of #CranesForOurFuture to support a nuclear weapons free world!
July 22, 2021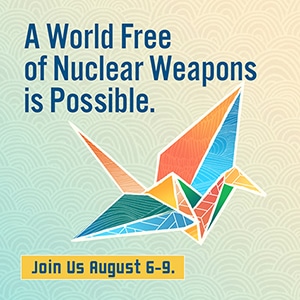 The  Nuclear Threat Initiative and Hiroshima Organization for Global Peace—with support from PSR and many allied organizations—have organized a virtual #CranesForOurFuture Global Weekend of Action, August 6 to 9, concurrent with the anniversaries of the 1945 bombings of Hiroshima and Nagasaki. In the unifying spirit of this summer's Tokyo Olympics, everyone is invited to share videos or pictures of a folded crane—a universal symbol of peace—on social media with a peaceful message and the hashtag, #CranesForOurFuture. By sharing, everybody who participates will be part of a peaceful demonstration of unity in the pursuit of a more peaceful, prosperous and nuclear free world. Additional details and instructions for folding paper cranes can be found on the campaign website at cranesforourfuture.org .
On November 3 in Washington, DC, Physicians for Social Responsibility bestowed a Health Hero Award upon Tina Cordova, co-founder of the Tularosa Basin Downwinders Consortium. ...
On November 16, 218 mayors, city councilors, county and municipal officials and state legislators from around the United States delivered a letter to President Joe Biden...
Three important reports on climate change were issued recently – and the news isn't good. They found widespread impacts and more billion-dollar climate- and weather-related...