Back from the Brink to Biden: Get moving to prevent nuclear war
October 27, 2023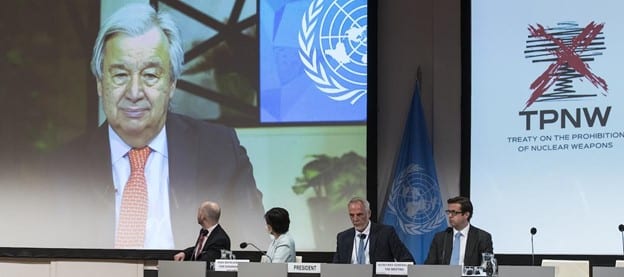 PSR is a National Partner Organization in Back from the Brink: Bringing Communities Together to Abolish Nuclear Weapons. In the run-up to the 2nd Meeting of States Parties (2MSP) to the Treaty on the Prohibition of Nuclear Weapons, Back from the Brink is lining up local elected officials behind a letter to President Biden encouraging him to send official U.S. "Observers" to the meeting. Over 100 officials have already signed on. You can help!
In the sign-on letter, local elected officials call upon President Biden to (1) send an observer delegation to 2MSP at the United Nations in late November, AND (2) to initiate negotiations with all nuclear weapons states toward a verifiable, timebound agreement to eliminate all nuclear weapons from the planet.
Back from the Brink has made it quick and easy to ask your local elected officials to sign onto this letter to President Biden:

Or if you prefer, you can also directly ask Secretary of State Blinken to send Observers to 2MSP.
On November 3 in Washington, DC, Physicians for Social Responsibility bestowed a Health Hero Award upon Tina Cordova, co-founder of the Tularosa Basin Downwinders Consortium. ...
On November 16, 218 mayors, city councilors, county and municipal officials and state legislators from around the United States delivered a letter to President Joe Biden...
Three important reports on climate change were issued recently – and the news isn't good. They found widespread impacts and more billion-dollar climate- and weather-related...