Activists and Downwinders Mark Anniversary of Trinity Test
July 21, 2023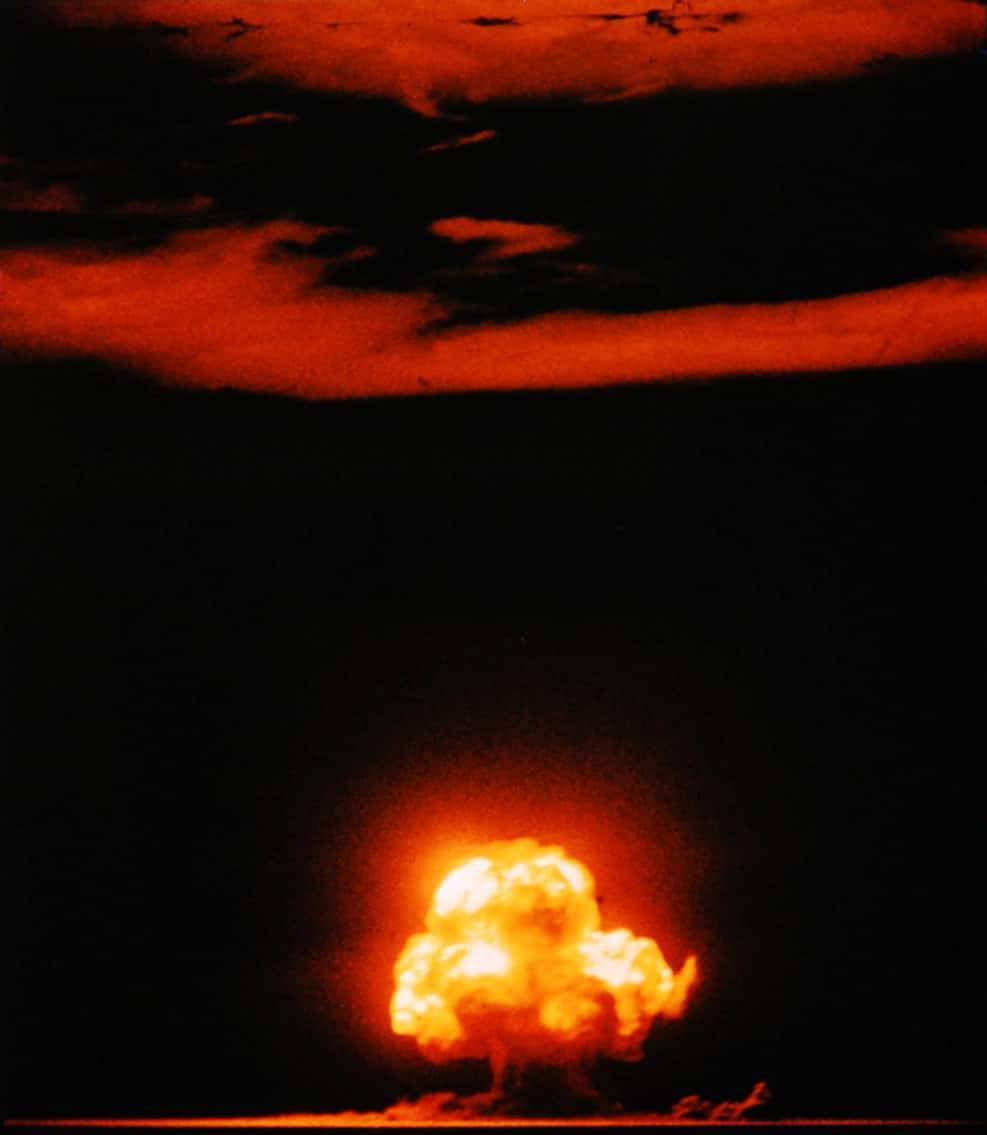 July 16th marked the anniversary of the Trinity Test. Seventy-eight years ago, at 5:29 am at the Los Alamos testing site, 'Gadget' was successfully detonated and the nuclear age was born.
This year's anniversary was particularly poignant with the release of Christopher Nolan's Oppenheimer on July 21st. The film centers on the race to build the bomb and the Trinity Test but entirely excludes the victims of nuclear testing from the narrative.
On July 15, the film's promoters organized a New York event that included a special early screening of the new film and a panel discussion with Los Alamos scientists and filmmaker Christopher Nolan. Yasmeen Silva, Union of Concerned Scientists campaign manager and PSR National Board member, organized a vigil outside this event commemorating the Trinity anniversary. The vigil aimed to highlight the human toll of nuclear weapons and encourage public discourse. The vigil also incorporated a tribute to the lives lost and a pamphletting campaign to embolden public action to fight for compensation and justice. This demonstration received media coverage by the Associated Press.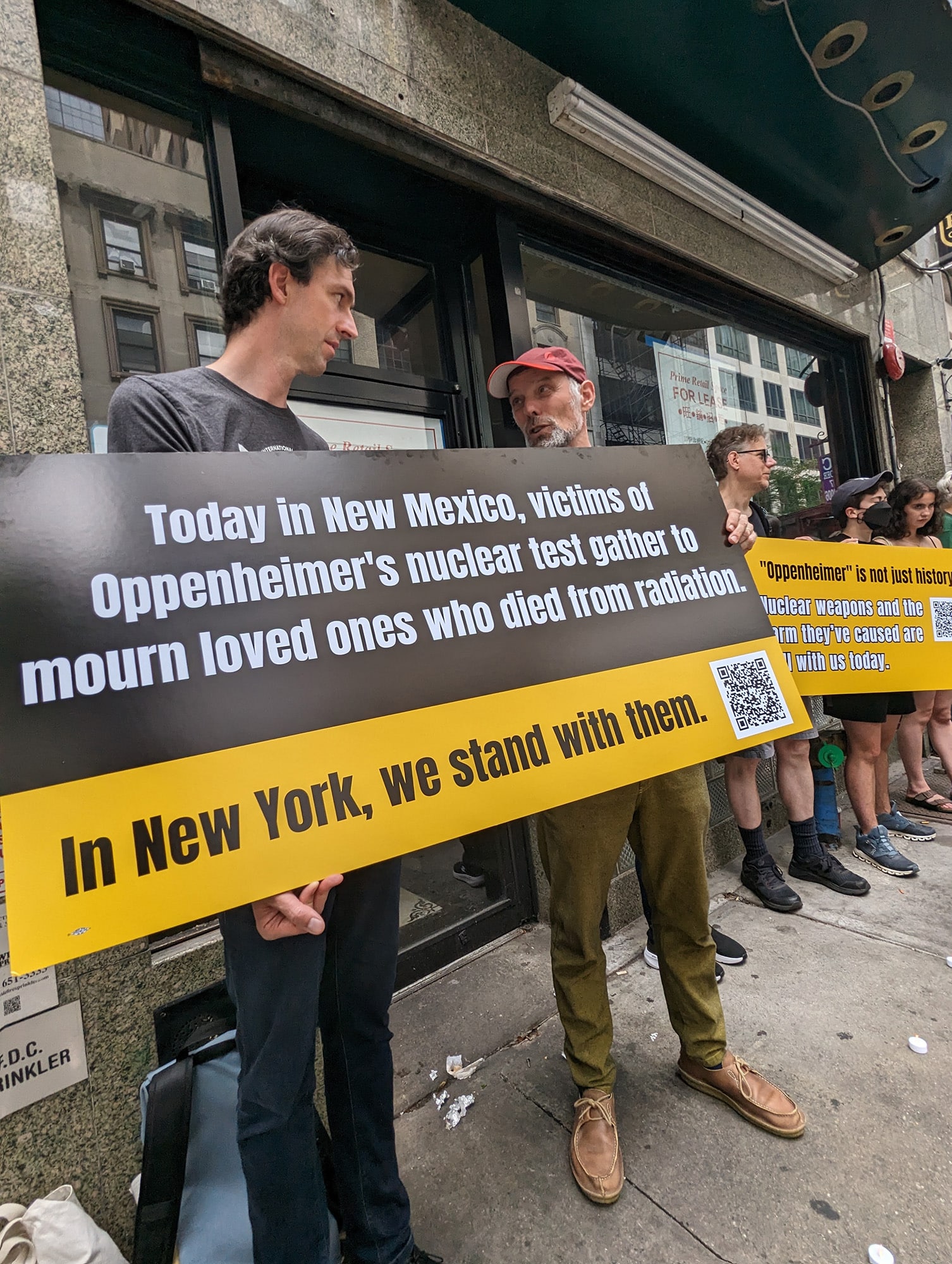 Each year on July 15th, activists and downwinders gather across the country to commemorate those lost and fight for change. Speaking at the annual interfaith remembrance of the Trinity Test in Sante Fe, Archbishop John Wester denounced all nuclear weapons and called upon New Mexicans to take the initiative towards the total elimination of nuclear weapons.
He emphasized, "We can no longer deny or ignore the extremely dangerous predicament of our human family … We are in a new nuclear arms race far more dangerous than the first, and I believe we need to rejuvenate a sustained, serious conversation about universal, verifiable nuclear disarmament."
Archbishop Wester's stance is particularly significant given the history of nuclear testing in New Mexico and its centrality to the Pentagon's $1.7 trillion nuclear weapons "modernization" program. The Los Alamos National Laboratory, which falls under Archbishop Wester's parish, is expected to produce 30 new bomb cores, known as pits, annually by 2026.
In his concluding remarks on Sunday, Wester asked, "What could be more pro-life than ridding the planet of the only weapons capable of ending God's creation on this, our only Earth?"
Also speaking at the Sante Fe event, Charles Oppenheimer, grandson of J. Robert Oppenheimer, declared his grandfather's greatest legacy was his advocacy for international cooperation on arms control. In his closing remarks he emphasized, "our shared enemy is the risk of nuclear and environmental catastrophe – but we can fight these threats together."
The event received significant attention. Reports indicate over 300 people were present, including Ann Suellentrop, MSRN, of PSR Kansas City, 300 attendees online, and Representative Leger Fernandez, Santa Fe Mayor Allan Webber and Santa Fe County Commission Chairwoman Anna Hansen. Wester's comments in particular generated media attention.
To quote J. Robert Oppenheimer; "It is in our hands to see the hope of the future is not lost."
PSR's Gas Stove PSA campaign wraps up with two new animated videos. The fourth in our campaign focuses on clean energy and electrification wins around...